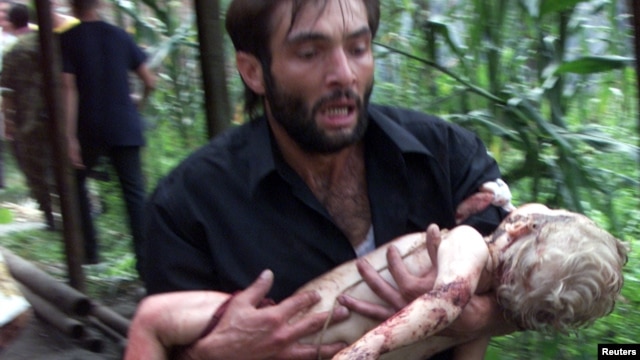 MOSCOW — September 3 was a solemn day in Russia — the Day of Remembrance of Victims of Terrorist Attacks. In Moscow, wreaths were laid and candles lit at the sites of 12 different terrorist incidents that have taken dozens of lives in the capital in recent years.
But relatives of victims of perhaps Russia's most horrific terrorist attack of all — the September 2004 hostage-taking at a school in Beslan — are disappointed with the way their particular pain has been handled.
On September 1, 2004, armed Chechen militants seized more than 1,000 children, parents, and teachers who were gathered at the Beslan school to mark the start of the school year. Three hundred and thirty-four people — including 186 schoolchildren — died, many of them in the chaotic storming of the school two days later by Russian security forces.
Ella Kesayeva, a member of the Beslan Mothers Committee, says Moscow's policy on the tragedy now amounts to a very simple one: "Forget Beslan."
For example, she says, two years ago at this time, the headlines were dominated not by Beslan commemorations but by then-Prime Minister Vladimir Putin's road trip across Siberia in a Lada Kalina automobile.
"In the past seven years, the leading figures of government only twice observed moments of silence in memory of those who died," Kesayeva says. "In the other years, they were doing things like riding yellow Kalinas and they just forgot about Beslan. They made it clear that 'we don't want to remember this.'"
She adds that her group's efforts to secure passage of a federal law on assistance to victims of terrorist attacks have been stymied.
"For years, we have been gathering signatures in support of a law on victims of terrorism — all victims, not just Beslan — but it still has not been passed," she says. "To this day, victims have no social guarantees, no right to medical care. For years, people got medical help on an individual basis. Now, the situation is clear: 'Forget Beslan.'"
Kesayeva says questions about the storming remain unanswered, and she criticizes the investigation into the Beslan events. She notes that the main security officials involved in the storming, including two former deputy chairmen of the Federal Security Service (FSB) and a former deputy interior minister, have never been called to testify about the events or why they ordered the use of tanks and other heavy weaponry.
She notes that many of the Beslan Mothers Committee's complaints are now pending before the European Court of Human Rights in Strasbourg.
Marat Kaboyev, a journalist based in Beslan, tells RFE/RL's Russian Service that the investigation into Beslan is far from complete and has been largely pushed to the side.
"The investigation into the so-called main case has still not been completed. Every three months, they extend the deadline," Kaboyev says. "The investigation is proceeding very lackadaisically. In my opinion, investigators are mostly reinterrogating witnesses that already testified that during the storming of the school heavy weapons — that is, tanks, flamethrowers, grenade launchers — were used. They are reinterrogating them along these lines: 'Did you see who among the hostages, say, was killed by a shell from a tank?' It is unclear when such an investigation might end."
He adds that "an enormous amount" of material concerning the case has been sealed as "top secret" and excluded from the investigation.
Courtesy of: RFE/RL