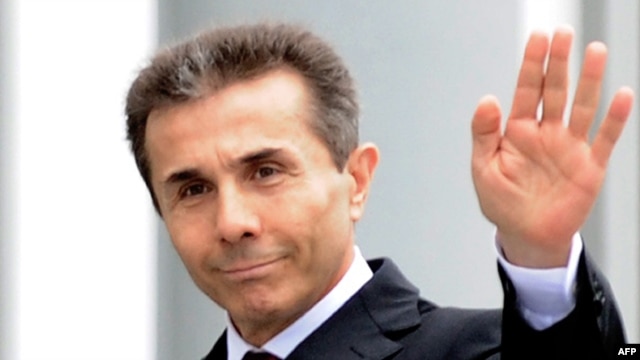 According to Georgian President Mikheil Saakashvili, the beginning of the end of his relations with Russian leader Vladimir Putin came at their first face-to-face meeting in February 2004.
Putin, following a long tradition in Moscow's relations with the countries of its "near abroad," reportedly ordered Saakashvili to ensure the future of Valeri Khaburzania, security minister under the previous Georgian president, Eduard Shevardnadze. Instead, Saakashvili demoted Khaburzania and soon fired him outright.
Putin, Saakashvili says, was livid — and Russian-Georgian relations quickly deteriorated. Since the five-day August 2008 war, the Russian government has said it will not have any dealings with Georgia while Saakashvili remains in power.
In its recent victorious election campaign, billionaire businessman Bidzina Ivanishvili's Georgian Dream pledged to reduce the level of confrontation with Moscow without sacrificing Georgia's overall path toward European integration, close relations with the United States, and eventual NATO membership.
Finding that middle path between confrontation and capitulation will be one of the toughest tasks for Ivanishvili, who lived and worked in Russia in the 1990s and who until recently held Russian citizenship.
A major hint about how he plans to accomplish that came on October 8, when he named his cabinet. Analysts say his choice of a foreign policy team suggests he plans to tone down the heated rhetoric that marked bilateral relations with Russia, improve economic ties, and revise Tbilisi's approach to the pro-Moscow breakaway regions of Abkhazia and South Ossetia.
Lincoln Mitchell, a professor at Columbia University in New York who advised Georgian Dream, says the foreign policy nominees illustrate the pragmatism of Georgia's new leaders.
"The style is different and that is, just looking at these folks, these are not saber-rattlers," Mitchell says. "These are people who are kind of calm and rational. And that seems to me to be the big difference."
Among the key foreign policy nominees is former UN Ambassador Irakli Alasania, a staunch advocate of European integration and leader of the pro-Western Our Georgia-Free Democrats (OGFD) party, who was tapped as defense minister. Ivanishvili's spokeswoman, former Georgian Ambassador to Germany Maia Panjikidze, has been nominated for foreign minister.
Sore Spots
Perhaps the easiest pledge for Ivanishvili to deliver on will be his promise to restore economic ties with Russia, which has for years imposed a boycott on key Georgian exports such as wine and mineral water.
However, with Moscow joining the World Trade Organization (WTO) earlier this year and with the Kremlin likely looking to make a post-Saakashvili gesture toward Tbilisi, those barriers could easily come down, says Carnegie Endowment Caucasus expert Thomas de Waal.
But the key issue between Moscow and Tbilisi, the status of the breakaway Georgian provinces of South Ossetia and Abkhazia, promises to be tougher. Following the 2008 war, Moscow recognized the two as independent countries. Georgia considers them occupied by Russia.
Panjikidze lost no time addressing the issue, acknowledging on October 8 that the conflict is a daunting one that offers no easy answers.
"The restoration of diplomatic relations, considering the fact that Russia operates two embassies in [the Abkhaz capital] Sukhumi and in [the South Ossetian capital] Tskhinvali, is a very difficult issue," Panjikidze said. "However, we will need to work on solving this issue. As for concrete steps that will be taken from both sides — it is still too early to tell. We have stated many times — these relations will not be rectified on one or two days, as 20 percent of Georgia's territory remains occupied by [Russia]."
Mitchell, who authored the book "Uncertain Democracy: Georgia's Rose Revolution and U.S. Foreign Policy," argues that there is room for maneuver on this seemingly dead-end issue.
'Farther Away'
Mitchell says Saakashvili's policy of treating the issue as only a conflict between Moscow and Tbilisi was the equivalent of acting as if "there are no people in South Ossetia and Abkhazia." As a result, after eight years of Saakashvili's presidency, those regions "are significantly farther away" from Tbilisi than ever before.
He says the new government has a chance to correct this policy.
"One thing is that maybe you try to take into consideration what the folks there are thinking — not treat them like some kind of independent state, but try to bring them in," Mitchell says. "Maybe you create some kinds of relationships based on civil society ties, linkages to the West so that they are not so heavily dependent on Russia. And those linkages don't have to go through Tbilisi as much as they did. Those are things that we might see happen."
And analysts say Ivanishvili's new team might be the ones to pull this off. Defense Minister-designate Alasania has been advocating such policies for years. His father, KGB Major General Mamia Alasania, was killed when the Abkhaz capital, Sukhumi, fell to separatist forces in September 1993. Alasania was 19.
Nonetheless, Alasania has long worked for direct ties between Tbilisi and the breakaway provinces and has argued that Georgia must attract them back by becoming a prosperous and genuinely democratic country. He once served as Saakashvili's envoy in talks with Abkhazia and has a reputation as one of the only major Georgian politicians with whom separatist leaders in Sukhumi are willing to deal.
Pragmatist Prime Minister?
At the same time, naming the staunchly pro-Western Alasania to the Defense Ministry sends a clear signal that Georgia will continue actively pursuing NATO membership. And he has long insisted that this is possible without needlessly antagonizing Moscow. In a 2009 interview with RFE/RL, Alasania said Saakashvili's often heated rhetoric "contributed to straining this relationship."
In making his cabinet choices, Ivanishvili elevated another figure with a similarly pragmatic reputation. He named Republican Party official Paata Zakareishvili as state minister for reintegration, the ministry that is in charge of relations with the breakaway regions.
Carnegie's de Waal says the Zakareishvili appointment signals a real change from Saakashvili's policies.
"Paatra Zakareishvili is an extremely thoughtful, impressive person who has worked for more than 10 years — possibly, the Georgian who has been most involved in dialogue with the Abkhaz and South Ossetians, going way back to the war when he was involved in negotiating prisoner exchanges and getting dead bodies out of Abkhazia," de Waal says. "He's a man who really respects them and they respect him."
Moscow 'Nightmare'
De Waal says that Saakashvili's refusal to engage the regions, particularly Abkhazia, directly has enabled the Kremlin to take that region's dependence on Moscow for granted — and that could change soon.
"It could be the Russians' real nightmare — to have a Georgian who wants to have real and substantial engagement with the Abkhaz and South Ossetians," de Waal says. "In a sense [the Russians] have had it easy since 2008 in that the previous government has cast the conflict as a Russian-Georgian conflict and basically nothing, or very little, has happened."
Columbia's Mitchell agrees that the new Ivanishvili team and policies that reduce the possibility of war with Russia could be more effective at achieving Georgia's interests.
"Saakashvili's Moscow policy boiled down to hardline rhetoric and [de facto] giving them everything they needed, turning everything they need over. So, I don't know," Mitchell says. "Alasania, Panjikidze, these are people who are foreign-policy professionals and who are going to pursue Georgia's foreign policy, I would think, effectively. And, if you are in Moscow, I think you realize that, well, that means the chance of war is less likely because it is in kind of more rational hands — but, you know, Moscow benefited from that possibility of war. That was valuable for domestic Russian politics. And that is gone now."
Courtesy of: RFE/RL