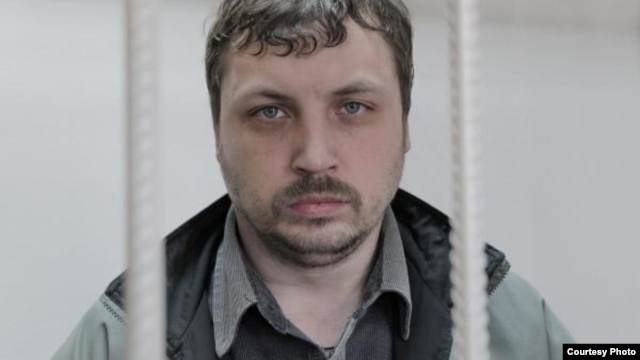 If Russian investigators have their way, Mikhail Kosenko could soon be locked up in a psychiatric clinic.
Russia's Investigative Committee on October 15 announced it had completed its probe into Kosenko and asked the Prosecutor-General's Office to refer him to a mental health institution for compulsory treatment.
Kosenko and 16 other Russians are accused of instigating "mass disorders" and assaulting police officials during a May 6 rally in Moscow.
One defendant has already been charged after pleading guilty, and investigators say they are preparing to formally bring charges against the others.
Lawyers and rights groups are stunned by the severity of the charges against the protesters, some of whom face up to 10 years in jail.
The case against Kostenko, who suffers from a psychiatric disorder after a trauma sustained during his military service, has sparked particular outrage.
Natalya Taubina heads the Public Verdict Foundation, a nongovernmental organization whose lawyers are defending Kosenko. She says the young man is not a danger to society as claimed by investigators and has no need to be interned in a psychiatric hospital.
"He has been an outpatient under supervision for about 10 years. He has never needed hospital treatment," Taubina says. "He regularly took his medication and saw the doctor every two weeks. And that was enough."
Taubina says Kosenko was denied proper medical care during the three months he spent in pretrial detention.
Moreover, lawyers say the video footage allegedly incriminating him actually shows a group of people assaulting police while Kostenko stands by.
Taubina says her foundation has asked for a second psychiatric evaluation and is considering filing a complaint with the European Court of Human Rights, based in the French city of Strasbourg.
Unprecedented Crackdown
The defendants, also known as the "Bolotnaya 17" in reference to the Moscow square where they were detained, have come to symbolize what many see as an unprecedented crackdown on dissent as Vladimir Putin begins his third presidential term.
About 400 people were detained and dozens were hurt when riot police and protesters clashed during the authorized protest on Bolotnaya Square, where people turned up en masse on May 6 to denounce Putin's 12-year rule.
Police claim the protesters attacked them with metal crowd barriers and threw pieces of asphalt at them. According to official figures, more than 40 police officers were hurt.
But protesters insist that police struck them with batons and provoked clashes by pushing many demonstrators into a confined area.
Rights groups accuse investigators of applying double standards against the protesters.
"There are numerous video recordings showing police officers clearly committing criminal acts," says Sergei Davidis, who heads the program on political prisoners for the Moscow-based rights group Memorial. "There are numerous testimonies, but nothing has happened. They haven't even formally replied to inquiries."
Lawyers say the investigation was skewed in favor of the prosecution, dampening hopes for lenient verdicts against protesters.
Aside from protester Maksim Luzyanin, who has pleaded guilty in exchange for leniency, the others deny the charges against them.
"Concerning the confiscation of various samples, including stones — which many of the protesters are accused of throwing — and others items, nothing was collected during the investigative process," says Dmitry Dinze, the lawyer for one of the defendants, Denis Lutskevich. "The criminal cases, however, were opened as early as May 6 around 9 p.m. They also failed to seize helmets, bulletproof vests, and police uniforms, and they are not planning to do so because they say it is unnecessary since so much time has passed."
Concerns that the "Bolotnaya 17" will be handed long jail sentences have grown since three members of the female punk performance-art group Pussy Riot were jailed for two years in August after staging an anti-Putin performance in Moscow's largest cathedral. One of the women has since been released on probation.
Moreover, the "Bolotnaya" case is far from over. Investigators say they are still tracking down 70 other individuals suspected of disruptive behavior on May 6.
Courtesy of: RFE/RL