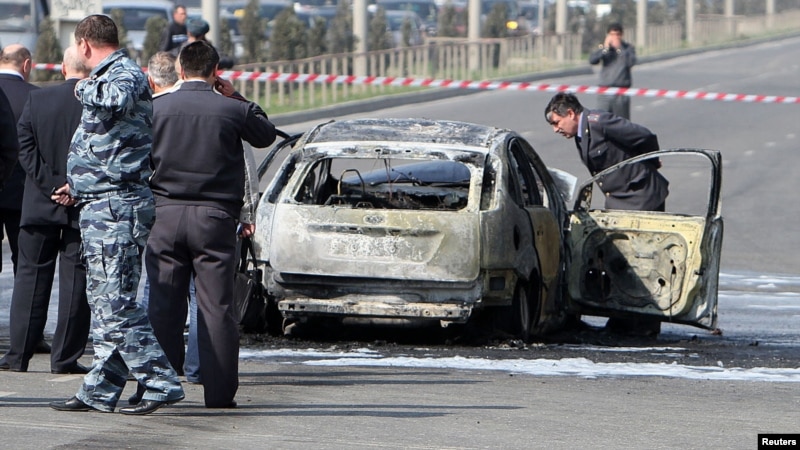 Suicide bombings in police stations. Muslim clerics gunned down in broad daylight. Shoot-outs between insurgents and security forces. These have become run-of-the-mill headlines in Russia's troubled North Caucasus region of Daghestan.
Last week, unidentified gunmen shot dead an imam and two of his male relatives as they drove to morning prayer in the Daghestani town of Derbent. He is at least the fifth Muslim leader slain this year.
Analysts say Daghestan has unquestionably deteriorated into the most unstable republic in the North Caucasus, a region wracked by conflict and insurgency. But why Daghestan? What are the factors that set the republic apart?
Like Ingushetia, Kabardino-Balkaria, and to a lesser extent Chechnya, Daghestan is a hotbed for the militant Islamist insurgency led by Doku Umarov that seeks to create a so-called pan-Caucasus Islamic caliphate.
Widespread unemployment, poor living standards, rights abuses, and resentment of local and federal authorities have spurred new generations to join the insurgency — or "to go to the forest," as locals say.
The difference in Daghestan's case, however, is the cachet that Islam wields in the republic. Analysts say more radical Islamic ideologies such as Salafism have gained a greater foothold in Daghestan than in other North Caucasus republics.
This, according to Aleksei Malashenko, a Caucasus expert at the Carnegie Moscow Center, sets Daghestan apart from its neighbors. "The difference consists in the [presence of] very strong nonofficial Islam and very strong Islam within the opposition," he says. "There is also a difference in the level of Islamization. Daghestan is the most Islamized republic in the region."
This distinction aggravates many of the riffs in Daghestan. It cuts directly along the fault lines that divide adherents of traditional from nontraditional Islam; the Islamic opposition from the local administration; and the adherents of Shari'a law from the population that opposes cultural and social drift from Russia's orbit.
Tit-For-Tat Violence
The killing of the Salafi imam on October 30, for example, illustrated the tensions between the Sufi and Salafi communities. Analysts say it appears to have been a revenge attack by powerful Sufi groups.
Kalimulla Ibragimov, 49, was well known locally as an imam who worked at an unregistered mosque in Derbent that was dedicated to the Salafi branch of Islam, which is considered more radical than Sufism and is shunned by the authorities as extreme.
Mairbek Vatchagayev, a North Caucasus analyst for the think tank Jamestown and head of the Paris-based Center for Caucasus Research, says Ibragimov's assassination had all the hallmarks of a revenge attack. He notes that Ibragimov's assassination fell only days after Sufi groups marked one year since Sufi Sheikh Sirajuddin Israfilov was killed.
"I think we can talk about an element of revenge here from proponents of Sufi who decided a year after the death of their imam to carry out a strike on those for whom they believe their sheikh may have been killed," Vatchagaev says.
These kinds of attacks are likely to radicalize more moderate Salafists and stymie any reconciliation with adherents of the more mystical Sufi branch of Islam.
Ibragimov, in turn, was dubbed a "martyr" by the Kavkaz Center website, which is widely viewed as a rebel mouthpiece.
Admitting Failure?
Analysts say imams make for attractive targets because they are high-profile public figures and also physically vulnerable to attack.
In contrast with those in Chechnya, imams in Daghestan, Ingushetia, and Kabardino-Balkaria do not receive official armed guards. Malashenko estimates that in the last six years, over 37 imams and muftis have been killed across the North Caucasus from Karachai-Cherkessia to Daghestan.
On October 16, President Vladimir Putin called on Russia's security and law enforcement officials to work "as decisively as possible" to quash the insurgency ahead of key events like the 2014 Winter Olympic Games in Sochi.
Putin also confirmed what many analysts have long claimed — that the Russian military is involved in the "counterterrorist" operations in Daghestan.
Malashenko speculates that the use of the army will not alleviate the situation. He says the move instead underlines the failure of Kremlin policy in the republic. "The only way that exists in Putin's brain is to fight — to send more and more military men," he says. "It leads to nothing. They have done this so many times and in practice it proves that there is a civil war in Daghestan."
Putin estimated that Russian special operations have caught 479 "bandits" and killed 313 "terrorists," including 43 insurgency "leaders" in the North Caucasus.
But Vatchagayev says these operations are not having a noticeable impact in Daghestan. "If we look at Ingushetia or Kabardino-Balkaria, then we can see an element of stagnation — the authorities are trying to counteract and are carrying out very serious blows on the insurgents. Even if the situation is not under control there, the authorities have managed to stop the increase in the actions of the insurgents," he says.
"But in Daghestan for the last four years all we have seen is an increase," he continues. "We have not reached the peak. I think there is a long way to go till the peak."
Courtesy of: RFE/RL